Twist Banner Stand
The Twist banner stand is a unique linkable display wall.
Twist is the most flexible, portable, modular exhibition display system in the world.
Twist tension exhibition banner stand offers incredible flexibility, stability and ease of use. The range has been designed to fulfill a wide range of exhibiting and display solutions, be it a single banner stand in a retail environment or a bespoke shell scheme wall system –
the opportunities available with the Twist system are endless.
Designed and manufactured in the UK, the Twist range brings a new dimension to the world of display graphics. Stylish design, high quality manufacture and a high degree of flexibility make this range a real alternative to both pull-up and pop-up systems.
By linking two or more TWIST banner stands together, it is possible to create a true seamless image. Due to the stable nature of the stand, you can create a straight graphic wall in excess of 10 metres long if required. Even if the floor is uneven, all of the panels will remain level.
To form a graphic wall, simply attach magnetic tape to the back of each graphic panel down both sides.
Then simply slide the linking pins (supplied) into the top and bottom finishing strips of one
graphic and slide them into those on the adjacent graphic.
Once in place, attach the three magnetic bars (also supplied as part of the EASI-LINK kit) to the rear of the graphic – it's that simple.
TWIST Specification
Panels can be 700mm, 900mm or 1000mm wide all are 2000mm
high. Total height of system including graphic is 2130mm.
The stands can be linked together with 'ghost' panels to form a
seamless image of any length and any shape. Each stand comes
with its own integrated lighting, transformer, graphic carry case
and bag.
Link each display together for a true seamless graphic wall.
Allows curved or straight walls to be created.
Comes with integrated lighting as standard.
Literature stand and monitor bracket available.
Quick and easy to install.
Twist Accessories
Twist Hardcases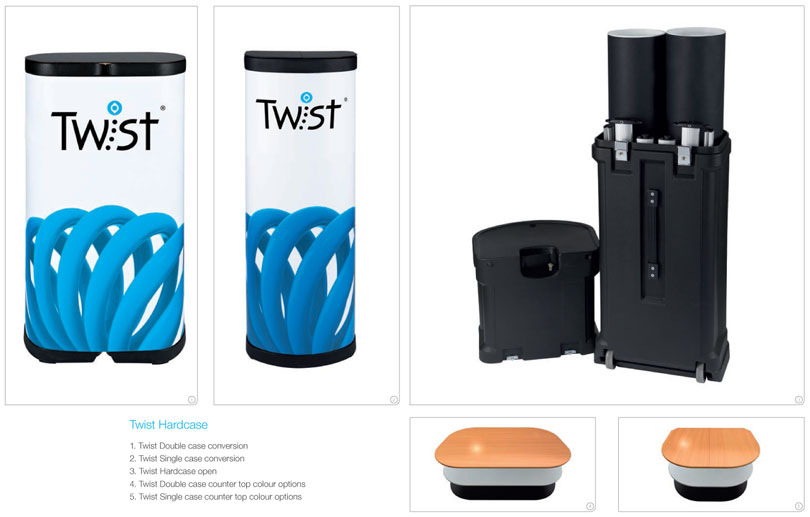 Examples of how the Twist can be used within your shell scheme
This video shows how easy it is to build your exhibition stand using the Twist tension banner stand
For free, impartial advice or to see if the twist banner stand is the right solution for you, give us a call on 
01782 525500