Football Programmes – a revenue earner or a pain in the backside?
A way to raise your club profile and increase sponsorship or a necessary evil?
Whatever your view (and we are firmly in the optimists camp) the design and printing of your matchday programmes can take a lot of time and remain a costly exercise every home game. Cipher Graphics is here to help you to save both time AND money.
Our digital printing service allows you to order the exact quantity of football programmes you require for every game. Vary the quantity ordered depending on the opposition, time of year, anticipated weather conditions and so on. Anything you think will affect the size of the crowd should be factored in before you place your order – if you require 72, order 72.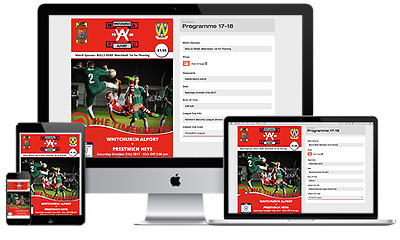 Create your programme online to keep it up-to-date and relevant. Just ask Martin Wild at Whitchurch Alport how our service has revolutionized their matchday programme.
Using his online portal, martin can change copy, alter the cover picture, add a matchday sponsor, update the teams and so on, all from the comfort of his armchair using either his tablet, laptop or smartphone.
Every programme contains information relevant to that specific game. A match report from the previous game, an up-to-date league table, the musings of the manager – even information about the opposition. Alport even use the service for a Monday night game. Martin makes his changes on Sunday morning and places his order. Our print room downloads the print ready file together with the order specifying the quantity required within an hour of the Martin placing the order. The programmes are printed that afternoon and delivered ready for the game on Monday night.
Can your current printer offer this service? And given that all the preparation is done online by Martin, Alport's ongoing artwork bill is precisely zero. That's right. Once the template is set-up, providing there are no changes to the static elements in your program, we only charge for printed, finishing and delivering the programmes
To discuss how our system could revolutionise your club's matchday programmes, give us a call on 01782 525500.